Program Description
BA in Digital Film and Television
The BA Digital Film and Television (DFTV) programme led by Adam McIlwaine is for people who are passionate about the art and craft of film-making. It has swiftly built a significant reputation in the industry as well as acting as a catalyst and focus for artistic collaboration within the Conservatoire.
We provide a rich and challenging environment for ambitious students who are keen to develop their skills to the highest level and who have the potential to originate new ideas and formats for film and television.
Film is a collaborative medium and here you will find all the resources you need at your fingertips. Nowhere in the UK provides the range of disciplines that we do at this level.
You can work with actors, composers, directors, dancers, and musicians, as well as scenic artists, stage managers, and technicians. Everything you need to make great work for the screen is right here, and you can engage with the whole spectrum of performing arts.
The DFTV has extensive industry links at the highest levels. Our students find themselves regularly involved in major productions and master classes as well as expert tuition from industry practitioners on an almost daily basis.
We'll help you develop your ideas and your creativity, and you can hone your skills in areas including screenwriting, cinematography, production management, editing, or sound recording.
Over the past ten years our students have won and been nominated for a number of awards, including BAFTAs and Royal Television Society Awards and our work has been shown in film festivals across the world.
Our graduates can currently be found at the BBC, STV, on major film and television productions, or directing and writing their own feature films. Others who want to build on their experience here have gone on to further training at a number of institutions including to the National Film and Television School.
Our approach to training is very different from the traditional technical training programmes. The importance of film and TV theory and history is embedded in their practical work and vice versa from the very beginning. This holistic approach grounds the students in the need to watch and analyse in order to create to the highest standard.
Screen Content development is also explored in a students' three-year journey at DFTV. The development of short-form scripts and content for Television including Children's TV are vital in a sector where ideas are the most valuable currency.
The DFTV Programme works in partnership with many organisations such as BBC Scotland, Progressive Broadcast Hire, Dumbarton Studi. We also have professional practitioners from all disciplines working with our students on a daily basis.
Students work on projects throughout their three-year degree moving from micro-shorts (90 secs) to fully-realised short films (max 20mins). The films are realised on tape-based, DSLR and RED camera systems as well as being edited on AVID. All productions are mentored by practitioners and form a key part of a student's course assessment.
Course Outline
Year 1: You will learn technical skills, together with the introductory elements of screenwriting and TV content generation. In your first year, you will also develop your technical skills and creative awareness, culminating in an individual project which will involve writing and directing a three-minute short film.
Year 2: You will work with the RED Epic camera system as you become a more creative practitioner. You will continue to write and learn to direct. This year you will choose a specialism from cinematography, post-production, sound recording or producing. Your project is a 90-second film for festival submission.
Year 3: You will hone your technical skills to a highly specialised and professional level, functioning independently and as a key team member. You will generate sophisticated creative content and negotiate your role as a specialist practitioner. The graduation projects are chosen in a competitive process and filmed using the RED Epic.
Entry Requirements
Scottish Highers – 3 passes (grade C or above)
A Levels – 2 passes
International Baccalaureate – minimum score of 24 with 3 subjects at Higher Level
We offer a flexible approach to students taking Highers over more than one academic year and/or who achieve their qualifications in more than one sitting.
Entrance to the Conservatoire is based on talent, potential and ability, therefore consideration will be given to relevant experience which is deemed to compensate for any traditional education. We accept a wide range of qualification, including international qualifications. If you wish to check the suitability of your qualification/experience, please contact us ( dramaadmissions@rcs.ac.uk ).
English Language
The language of study is English. Applicants whose first language is not English will be required to provide evidence of proficiency in English. We accept the International English Language Testing System (IELTS).
IELTS – 6.5 with a minimum score of 5.5 in each component
Last updated Jan 2018
About the School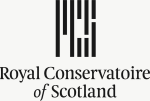 The Royal Conservatoire is Scotland's national centre of professional vocational training in performance arts. Our location is the heart of Glasgow; our orientation is the contemporary international s ... Read More
The Royal Conservatoire is Scotland's national centre of professional vocational training in performance arts. Our location is the heart of Glasgow; our orientation is the contemporary international scene. We are leading the way as one of Europe's top conservatoires, offering a rare breadth of artistic disciplines.
Read less