Bachelor Degree in Psychology
Home ›
BSc ›
Bachelor Degree in Psychology
Program Description
Psychology is the study of behavior and mind embracing all aspects of human experience. It is an academic discipline and an applied science which seeks to understand individuals and groups by establishing general principles and researching specific cases. Psychologists attempt to understand the role of mental functions in individual and social behavior, while also exploring the physiological and biological processes that underlie cognitive functions and behaviors.
The programme available, under the academic direction of the respective University, is:
BSc(Hons) Psychology - University of Northampton
This degree is for you if you wish to:
explore a coherent pattern of opportunities to acquire a corpus of psychological knowledge
receive a working picture of modern psychology and its methods, including self-awareness, capacity for self-reflection, and interpersonal competence
demonstrate knowledge and understanding of theory and research in the cognitive, social, physiological, and clinical bases of behavior
define a personal problem in need of change, describe what needs to be changed, and create an action plan based on psychological principles for changing behavior
develop skills in the areas of communication, information gathering, critical thinking, problem-solving, and quantitative and qualitative methods of inquiry, analysis, and interpretation
encourage the development of an appreciation of diversity, values associated with psychological science, and a commitment to ethical and professional behavior
Career Opportunities
Psychology is applied to many professional contexts. After further qualification, you can obtain 'chartered' status as a psychologist. Also, academic psychologists conduct research and teach in higher education.
It is widely acknowledged by employers that psychology degrees provide an excellent grounding for a diverse range of non-psychological careers. Our graduates are employed in education, the health service, the police force, human resources management, marketing, the civil service, broadcasting, social work and many other professions.
Programme Overview
This degree explores the nature of human behavior and experience and the various ways in which they can be studied. It focuses on the major issues and methods of inquiry in present-day psychology and considers the applications of psychology to problems of modern life in such fields as work, education, physical and mental health and crime. This well-established programme is accredited by the British Psychological Society (BPS) and is the first step towards becoming a Chartered Psychologist.
Programme Structure
The degree consists of sixteen modules & a dissertation and it is naturally completed in 3 years.
You are expected to study "Psychology in Practice", "Introduction to Psychology", "Investigating Psychology", "Becoming a Psychologist", "Positive Psychology", "Psychology for Life", "Independent Practical Work", "Research Methods & Data Analysis in Psychology", "Cognitive Psychology", "Biological Psychology", "Developmental Psychology", "Personality Psychology", "Conceptual and Historical Issues in Psychology", "Social Psychology" "The Developing Adult", "The Developing Child", "The Psychology of Health", "Motivation and Emotion" and two optional modules.
Last updated Mar 2020
About the School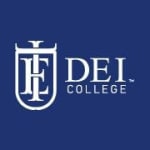 DEI College has been founded in 2009. However, it was operating as a liberal studies school from 1990 to 2009. It is also a part of a greater educational organization that was founded in 1967. Its gr ... Read More
DEI College has been founded in 2009. However, it was operating as a liberal studies school from 1990 to 2009. It is also a part of a greater educational organization that was founded in 1967. Its graduates are routinely employed by large Greek and International Companies.
Read less