BA in
Bachelor of Arts in Communication and Cultural Studies
Allegheny College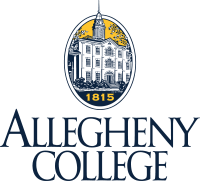 Introduction
Students engage in content, methods, and practices with faculty in order to develop the capacity to explore the ever-changing field of communication with developed cultural awareness.
Communication and Cultural Studies at a glance
77% are employed within eight months of graduation.
12% enter into service programs, such as AmeriCorps.
7% are in graduate school or a professional internship.
By engaging critically and creatively with the wider culture that surrounds them, students develop the capacity to analyze, evaluate, and produce myriad communication texts across media and genres. Students customize the major by choosing two Modules of Inquiry from four subject areas:
Media, Politics & Technology
Popular Culture and Civic Life
Digital Storytelling
Live Performance
Curriculum
Foundation courses explore public persuasion and everyday media. Intermediate courses explore cultural production and criticism. Advanced courses refine critical analysis skills, leading to an independent Senior Comp.
Year 1
2-3 courses: Most majors take both foundational courses: Introduction to Media Culture and Communication and Democratic Life. Some students may take a course in Media Making, such as Filmmaking and Digital Storytelling, Computational Expression, or Electronic and Intermedia Art.
Year 2
2-3 courses: Most majors take Cultural Criticism and begin both their selected Modules of Inquiry, usually at the 100- or 200-level. The four modules are Media, Politics, and Technology; Popular Culture and Civic Life; Digital Storytelling, and Live Performance.
Year 3
3+ courses: Most majors continue to progress on both their selected modules, usually at the 200- or 300-level. They also take the Communication and Culture Junior Seminar and develop a proposal and literature for their Senior Comp Seminar.
Year 4
3 courses: Majors complete both their selected modules with 300-level courses and complete the Communication and Culture Senior Comp.
Program Outcome
Communication and Cultural Studies majors learn to:
Situate works and ideas in historical, cultural, and political contexts.
Analyze critically multiple forms of human expression.
Create meaningful original work.
Participate productively in the public sphere.