Bachelor in
Bachelor in Risk Management & Environment Engineering
ESAIP Graduate School of Engineering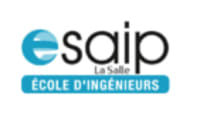 Scholarships
Explore scholarship opportunities to help fund your studies
Introduction
The ESAIP Engineer programme in Risk Management & Environment has been designed to enable you to understand the various facets of Risk, Health, Safety, and Environmental Management.
Projects
The integrated engineering cycle has team projects that take place over several months.
Scientific and technological project
It is part of the progressive acquisition of project management skills, with the methods of synthesis and communication skills essential to the practice of the engineering profession.
The application project
A team project on a transversal and multidisciplinary subject.
This helps to improve your understanding of career paths and to build your problem-solving skills.
The research project
It improves your research methodology and your skills in synthesis. This project is supported by the ESAIP Research Center, companies, and research laboratories.
The company application project
Dedicated days from October to February will be spent on a company project. This helps you to prepare for the final Internship. It puts you in the professional situation of an engineering team with a mission, under the joint guidance of an ESAIP lecturer-researcher and a tutor of the company that defined the specifications.
Internships
Build a high added value professional profile through internships. At least one will be abroad
9 months of professional experience
In the 3rd year: This is the opportunity to discover an industry or a business structure. Some students choose to replace the internship either with a humanitarian project via the PESF student association or a summer job.
In the 4th year: The internship is for you to explore the technical aspects of the engineering profession, whilst giving you the opportunity to observe and understand other facets of the profession.
In the 5th year: Over a 6-month period, this internship is your graduation validation at ESAIP. You will put into place an independent engineering mission. You will produce a master thesis and a defense in three languages reflecting the international nature of ESAIP.
Start-Ups / Entrepreneurship
In your final year, you get a great opportunity: to create a Startup during your final internship.
Esaip will support you in your projects specifically through the "Entrepreneurship" minor and thanks to our established close contacts can get you help from government agencies
Build your professional network
You will participate in "trade" conferences and are accompanied in your job search by recruitment professionals.
For your employability, you get the support of alumni and partner companies with whom we have built strong relationships.
As an ESAIP engineer, you have exclusive access to a network of over 4,000 active alumni and more than 600 companies that have trusted the expertise of ESAIP graduates.