ICBS 40 Years of Successful Operation and Academic Consistency
ICBS Business College was founded in 1977 in Thessaloniki by a team of scientists to meet the need for Business Education. The expansion of actions in other cities followed. From the very first moment his philosophy was based on:
Education according to the most efficient European and international standards.
Programs of study tailored to market needs and future developments in the globalized environment.
An academic staff which combines academic infrastructure with practical experience.
Anthropocentric Approach to develop immediacy, relationships in a fertile educational climate to facilitate learning.
Employment in Business so that innovative and new ideas are created and, above all, evolve into effective business action.
In collaboration with established British State Universities (Ulster, Kingston, Winchester) and accreditations from International Academic Recognition Organizations (AMBA, QAA, NARIC, PRME), ICBS has offered and offered undergraduate and postgraduate programs
Business Administration
Marketing
Financial Management and Accounting
Economics
Contributing significantly to the creation of thousands of highly trained graduates who successfully run Businesses and Organizations, both in Private and Public Sector.
ICBS Business College, operating and offering its programs in Thessaloniki and Athens, continues to support and guide students and graduates as well as the wider business community in achieving their goals.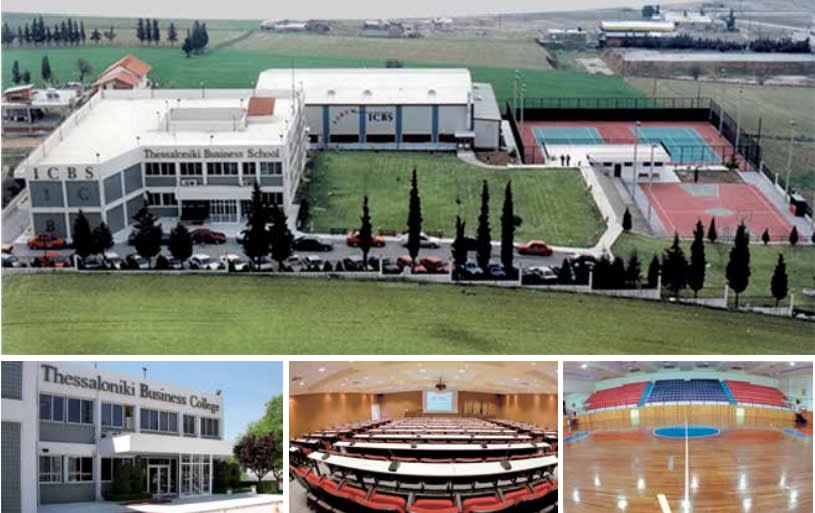 ICBS Thessaloniki Campus
A mere 10 kilometres from the centre of Thessaloniki, lies the Galene campus in Oreokastro, exemplifying 14.000 square metres of privately owned facilities, specially designed to support teacher and student efforts in the pursuit of excellence.ICBS Galene Campus includes: Classes equipped with audio-visual media and interactive projectors, Conference Hall seating 240 people, Computer laboratories, Library and reading room, Administration offices, Teaching Staff offices, Conference rooms, Secretarial offices, Alumni office, Sports Ground
ICBS Athens City
The ICBS Athens International College is housed in the Greek Management Association (EEDE) building, located in the Kato Patisia, Athens region. The complex houses a conference centre seating 390 people, teaching rooms, seminar rooms, libraries and labs make it an ideal environment that fosters learning in an academic setting.For more information about the School: www.icbs.grFor more information about University of Winchester: www.winchester.ac.uk
Living in Thessaloniki
Thessaloniki is the second-largest city in Greece, with over 1 million inhabitants in its metropolitan area, and the capital of Macedonia.The city of Thessaloniki was founded in 315 BC by Cassander of Macedon. An important metropolis by the Roman period, Thessaloniki was the second largest and wealthiest city of the Byzantine Empire. It was conquered by the Ottomans in 1430 and passed from the Ottoman Empire to Greece on 8 November 1912.Thessaloniki is Greece's second major economic, industrial, commercial and political centre; it is a major transportation hub for Greece and southeastern Europe, notably through the Port of Thessaloniki. The city is renowned for its festivals, events and vibrant cultural life in general, and is considered to be Greece's cultural capital.Events such as the Thessaloniki International Trade Fair and the Thessaloniki International Film Festival are held annually. Thessaloniki was the 2014 European Youth Capital. Thessaloniki is home to numerous notable Byzantine monuments, including the Paleochristian and Byzantine monuments of Thessaloniki, a UNESCO World Heritage Site, as well as several Roman, Ottoman and Sephardic Jewish structures. The city's main university, Aristotle University, is the largest in Greece and the Balkans.Thessaloniki is a popular tourist destination in Greece. In 2013, National Geographic Magazine included Thessaloniki in its top tourist destinations worldwide, while in 2014 Financial Times FDI magazine (Foreign Direct Investments) declared Thessaloniki as the best mid-sized European city of the future for human capital and lifestyle. Among street photographers, the center of Thessaloniki is also considered the most popular destination for street photography in Greece.
Living in Athens
Athens is the capital and largest city of Greece. Athens dominates the Attica region and is one of the world's oldest cities, with its recorded history spanning over 3,400 years and its earliest human presence starting somewhere between the 11th and 7th millennium BCE. Classical Athens was a powerful city-state that emerged in conjunction with the seagoing development of the port of Piraeus, which had been a distinct city prior to its 5th century BCE incorporation with Athens. A centre for the arts, learning and philosophy, home of Plato's Academy and Aristotle's Lyceum, it is widely referred to as the cradle of Western civilization and the birthplace of democracy. In modern times, Athens is a large cosmopolitan metropolis and central to economic, financial, industrial, maritime, political and cultural life in Greece. Athens is home to two UNESCO World Heritage Sites, the Acropolis of Athens and the medieval Daphni Monastery. Athens is also home to several museums and cultural institutions, such as the National Archeological Museum, featuring the world's largest collection of ancient Greek antiquities, the Acropolis Museum, the Museum of Cycladic Art, the Benaki Museum and the Byzantine and Christian Museum.Greece is one of the cheapest countries in Europe for foreigners, for both tourists and international students alike. On average, you would need around 450-700 EUR/month for all expenditures, including the accommodation, which is reasonable, compared to other European destinations (Spain, Germany, or Italy) where average monthly living costs are between 800 and 1,000 EUR.