BA in
Bachelor of Arts in Communication
Messiah College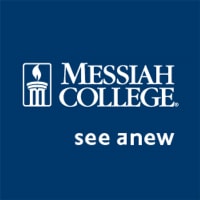 Scholarships
Explore scholarship opportunities to help fund your studies
Introduction
Communication at Messiah College
The Bachelor of Arts (B.A.) degree in communication at Messiah College helps you further your knowledge in the general field of communication with the flexibility to take courses in areas of communication that interest you most.
Learning to apply theories effectively and ethically in a wide range of communication specialties, you'll graduate with the foundation needed to pursue communication-related jobs or further your education through graduate studies. You will learn the role of communication in history and explore theory, rhetoric, and interpersonal and cross-cultural communication, allowing you to master various forms of communication—including oral, written, visual and virtual. You will also gain an understanding of communication processes among individuals, as well as within varying cultures and societies.
Communication major distinctives
As a communication major at Messiah College, you'll:
Have the flexibility to double major or minor, study abroad or participate in cross-cultural or external courses, including a semester at the Contemporary Music Center in Nashville, Tennessee, or the American Studies Program in Washington, D.C.
Have the opportunity to participate in The Pulse, Messiah College's student media hub, which includes PulseFM, an FCC-licensed FM radio station; the College's cable access TV channel; the Swinging Bridge, the campus magazine; and The Pulse's thriving social media pages.
Continue your education through a variety of graduate programs.
Work alongside faculty on research projects in a variety of communication-related subject areas and communication pedagogy.
Gain practical, hands-on experience in your chosen interest area
Career options for communication majors
As a graduate of the communication program, students are equipped to secure jobs such as:
Writer
Community or organizational relations specialist
Legislative affairs liaison
Researcher
Graduate student
Editor
Fundraiser
Community relations specialist
Communication director
Communication associate
Admissions counselor
Recruiter
Marketing director
Internship opportunities for communication majors
Messiah's nationally recognized internship program students in a variety of communication internships. A few examples include:
Philadelphia Flyers
Pavone
Inside-Out Creative
Pennsylvania Department of State
CURE International
Time Warner Cable
Washington National Opera
Tierney Communications
Bravo Group
PA Senate
JPL Creative Inc.
Suasion Public Relations
Church World Services
Flexible curriculum
Because of the flexibility of communication major, you can tailor your degree to your own interests and take courses in the areas of communication that are most appealing to you. This includes taking courses within any of the majors within the Department of Communication (journalism, film and media arts, public relations, digital media, broadcasting and media production), and potentially adding a minor or double major.
Hands-on experience as a Christian communicator
Through the communication degree program, you'll also have plenty of opportunities to gain valuable job experience. Many students complete internships in nearby Harrisburg, Pennsylvania's capital city, or choose to study abroad, work at The Pulse (Messiah's student-run media hub), or take on leadership roles in clubs and organizations. Throughout each of those opportunities, you'll practice your communication, analytical and critical thinking skills and become a successful Christian communicator and leader.
Scholarships
Messiah College offers several scholarships including the Provost's and College Honors Programs Scholarships each with different academic requirements and deadlines. We must receive all application materials by January 15th for highest scholarship consideration.
International citizens may be awarded additional financial aid on a case-by-case basis using the information provided on the International Student Scholarship Application (I.S.S.A.). The link to the I.S.S.A. form is emailed to students along with their admissions decision letter. That means the sooner the admissions process is completed, the sooner students can apply for financial aid and receive a package.
After subtracting academic scholarship and financial aid monies, international students pay between US$20,000-$30,000 each year for four years. The U.S. Embassy will deny student visa requests if the student cannot show supporting financial documents to pay this amount for college expenses. This is a government rule, not college rule.
We can accept your application, official transcript and test score at any time during the year. You must select which term you would be entering. There are two intakes during each academic year - in late August for our Fall term, and late January for our Spring term.