BSc in
Bachelor of Science in Communications
NYACK College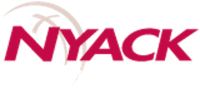 Introduction
Nyack's multifaceted Communications discipline enables students to identify and evaluate multiple principles of the arts and media from historic, contemporary, and practical perspectives. Our communications students are passionate about the arts and are motivated to become relevant in the world around them through a number of the twenty-first century, technologically-driven, and globally-engaged media outlets.
Why Study Communications at Nyack?
The study of Communications at Nyack College affords students the opportunity to actively engage in an enriching undergraduate experience that presents a rigorous core curriculum enhanced by a myriad of engaging and essential concentration courses ranging from screenwriting to acting.
Additional advantages to studying Communications at Nyack include:
Small class sizes and seminar-structured daily class activities that give students the opportunity to become an indispensable part of a close-knit department family.
Essential preparation for prospective careers and graduate studies in the fields of journalism, dramatic art, film studies, film production, rhetoric, and mass media.
The Communications Department of Nyack College boasts a robust presence on both the Rockland County and New York City campuses. This affords students the opportunity to be in or near New York City and have access to major broadcast media organizations, journalism outlets, and Broadway-caliber theatre companies for internships and future employment.
At a Glance
Specialized Accreditation: Middle States Association of Colleges and Schools
What Will I Study?
Communications majors are exposed to in-depth critical thinking relative to the role of the discipline in a twenty-first century, globalized world. Students in the department develop the ability to analyze, assess, and evaluate the media's influence on society, and are encouraged to apply their Christian perspectives to a range of discipline-specific concepts as future prospects within communication industries.
All Communications students enroll in the following core department courses during their matriculation:
Communication, Culture, and Technology
Interpersonal Communication
Introduction to Communications
Mass Media and Society
Public Speaking
Senior Seminar in Communications Media Ethics
Storytelling for Communications
Scholarships and Funding
Making a Nyack education Affordable
Last year the office of Student Financial Services awarded over $8.5 million in grants and scholarships to over 95% of our students. We are committed to making a Nyack College education affordable and are working to lower the out-of-pocket costs for our students.
Final awards are determined by Nyack through your Award Letter.
Career Opportunities
Nyack's Communications graduates are prepared for careers in areas that actively engage public speaking, writing, and dramatic skills, such as broadcast production, public relations, sales and advertising, acting, producing, directing, and more. Additionally, the major provides excellent preparatory skills for graduate studies in theatre, film, education, ministry, law, business, and all areas of the communication arts.
Our Graduates
A number of Nyack College Communications graduates continue their academic success with enrollment in a range of graduate studies programs. Others are propelled into careers with the support of internship experience gained during their studies. Here are some of the companies we have sent our students to for internships: