BSc in
Bachelor of Science in Communications
Saint Francis University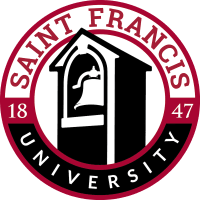 Introduction
Earn an Impactful Communications Degree from Saint Francis University
From digital editing, web design, and desktop publishing to advertising/PR, social media, and blogging: you will touch it all in the SFU Communications Program through the Shields School of Business.
Gain skills in social media, sports reporting, storytelling, and more!
Work in the on-campus media lab, TV studio, newspaper, or behind-the-scenes/on-air opportunities with our Division I athletics teams
Tailor your program focus through specialties in digital media and integrated marketing communications
The SFU Learning Experience
Our COMM students are always on the go, developing their skills and building their portfolios. In our on-campus media lab and television studio, they produce, design, and edit content for video, web, and print. They cover campus news for our newspaper. And they work behind the scenes and on-air with our Division I athletics teams. In other words, they are busy becoming Communications professionals.
Try on your career path!
Did you know that Communications majors can work in any industry, anywhere in the world? From major cities to small towns, everyone needs employees with communications skills, which means more jobs for COMM majors!
Seek Hands-On Experiences
Communications students are "doers." They envision and create campaigns and put these ideas into writing, film, graphics, or images. Much of what you do will be hands-on! Our students have interned with collegiate and professional sports teams, international fashion companies, and regional and national publications. They present their work at academic conferences and consult with professional organizations.
Earn "Internship Credits" as you can gain "real-world" experience and complete the program at the same time.
Travel to major cities to network with industry professionals including some of our esteemed alumni.
Find internships on campus, in industry, and around the globe.
Curriculum
Our Communications curriculum is comprehensive and our graduates are skilled in all facets of the profession. They develop technical skills in Desktop Publishing, Video and Audio Production, and Digital Editing classes. They build strategic skills in Public Relations, Advertising, and Social Media courses.
Year 1
Fall
WRIT 102 Research Writing 3
or
LIT 104 Intro. to Literature 3
COMM 105 Media Lit. and Society 3
HIST 100/200 History 3
RLST 105 Franciscan Goals for Today 3
CORE 113 Freshman Seminar 3
Spring
LIT 104 Intro. to Literature 3
or
WRIT 102 Research Writing 3
COMM 103 Public Speaking 3
ECON 101 Principles of Econ 3
LANG 112 or higher 3
COMM 201 Writing for Media 3
Year 2
Fall
COMM 205 Print and Web Editing 3
MKTG 101 Marketing 3
SCI BIOL, CHEM, PHYS, ENGR, CPSC 3
PHIL/RLST 300+Elective 3
COMM 210 Public Relations 3
COMM 301 Audio & Video Production 3
Spring
COMM 230 Group Comm or 3
COMM 240 CSR
COMM 208 Writing & Communication In Business 3
MATH 101 or higher 3
PHIL 205 Reason & Responsibility 3
3 from Comm 220, 305, 308, 340 3
Year 3
Fall
PSYC 101, SOC elective, PLSC 102 or 103 3
COMM 398/99 Internship 3
EXAM 301 Writ. Competency Exam 0
3 from Comm 220, 305, 308, 340 3
MATH/STAT/CPSC/ENGR or other science 3
Free Elective 3
Free Elective 3
Spring
3 from Comm 220, 305, 308, 340 3
PSYC 101, SOC elective, PLSC 102 or 103 3
FNAR Fine Arts course 3
Diversity Req. met in major/ Free Elective 3
Communication Elective 3
Free Elective 3
Year 4
Fall
COMM 330 Social Media Strategies 3
COMM 310 Advertising 3
Free Elective 3
Free Elective 3
Free elective 3
Spring
COMM 435 Multi-Platform Storytelling 3
Free Elective 3
Free Elective 3
Free Elective 3
Free Elective 2
Program Outcome
Upon successful completion of the Undergraduate Communications Program, you will be able to:
Demonstrate, in the Spirit of Saint Francis in the Marketplace, knowledge of the ethical value choices and responsibilities of business leaders.
Demonstrate skills in Public Relations, Advertising, Social Media, and more.
Demonstrate technical skills in Desktop Publishing, Video Production, and Digital Editing.
Demonstrate knowledge of the fundamental principles in communications.
Demonstrate the ability to connect with others.
Career Opportunities
Strong Salary Potential: The starting salary for communications professionals with a bachelor's degree is around $40,000 annually, according to U.S. News & World Report. Plus, the increase in earnings potential you will see as you gain experience is considerable. Many experienced professionals earn nearly $100,000 annually.
Growth Industry: Employment in media communication occupations is projected to grow 6 percent for the next 6 years! There are many options for Communications graduates - you might become a designer, public relations specialist, sales manager, web or print reporter, advertising or marketing manager, writer or editor, just to name a few career paths. Graduates of our Communications program are prepared to find success in a wide array of media and communications fields.
SFU Grads: Graduates of our program have moved on to careers in advertising, broadcasting, corporate communication, journalism, and public relations. Saint Francis Communications majors interested in continuing their education following their undergraduate studies have advanced to graduate and law schools across the country.
English Language Requirements
Certify your English proficiency with the Duolingo English Test! The DET is a convenient, fast, and affordable online English test accepted by over 4,000 universities (like this one) around the world.