BSc in
Bachelor of Science - Biochemistry
Salem College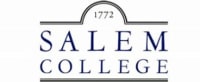 Scholarships
Explore scholarship opportunities to help fund your studies
Introduction
Salem offers a bachelor of science in biochemistry. By majoring in biochemistry, you will learn the basic chemistry, biology, physics, and mathematics that will help you understand and solve problems in health, environment, forensics, and food safety at the molecular level.
Your faculty in biochemistry hold doctorates and are well trained in the fields of biochemistry, chemistry, and/or biology. Salem's small class size means that you will receive individual attention and hands-on experience from our faculty.
The field of biochemistry prepares you for a wide array of careers. Biochemists are employed in government, industry, education, medicine, and by private institutions. The program of study also prepares you for professional school in medicine, pharmacy, dentistry, chiropractic, optometry, and veterinary fields.