BA in
BA in Communications
Siena Heights University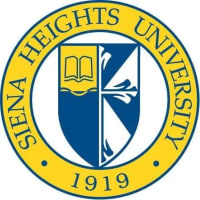 Introduction
The Communications program prepares students for careers in a wide range of fields, including professional writing, public relations, graduate education, law school, creative positions in public relations and advertising (through the digital communication concentration), and a wide variety of other careers that require competent communication professionals.
The program is an interdisciplinary program of study that approaches the study of human communications and expression through various lenses.
It transcends both the humanities and social sciences emphasizing the scientific approach to the study of communication as well as the more artistic and expressive forms of culture. Throughout the coursework, students become versed in the role of communications in power negotiations and identity formation by examining society, culture, politics, technology, and media in various local, national, and global contexts.
This program sets students up for success in a variety of different occupations, as students cater their degree plan towards their interests in fields such as business, marketing, broadcasting, journalism, media, non-profit work, or continued graduate-level studies in various disciplines.
The major offers students specializations in:
Business communication
Professional writing
Digital communication
Religious communication
Each specialization prepares students to enter a variety of careers from public relations and human resources, journalism, graduate school, law school, advertising, or a variety of new media positions.
The required internship requirement allows each student to gain professional job experience and direction regarding career choices prior to graduation. The program's capstone project is a research study based on the student's area of specialization that is completed in his/her junior/senior year with the help of the communications faculty.
Program Distinctions
Faculty with interdisciplinary backgrounds including film and media studies, broadcasting, journalism, popular culture, American studies, cultural studies, folklore, and English.
An emphasis on media and political literacy and analysis.
Degree plans and concentrations suited for a wide variety of occupations in business, journalism, publishing, non-profits, marketing, or further graduate-level studies.
Scholarships and Funding
Did you know that approximately 90 percent of undergraduate students on the Adrian campus receive some form of financial assistance? Our admissions counselors and financial aid experts are committed to helping you find the best financial solutions for your education. Siena offers a wide range of opportunities that may be right for you, including:
Academic scholarships
Arts scholarships
Athletic scholarships
Campus Ministry scholarships
Grants
Work-study programs
Federal loans
Your university financial aid package may include some or all of the above, resulting in a customized plan that makes Siena Heights University affordable for your family.
Curriculum
Specializations
Professional Writing
The Professional Writing specialization helps students improve their writing skills in preparation for graduate school or to pursue a career in editing, publishing, or journalism. The specialization gives students an opportunity to build a writing portfolio through coursework with the student news organization, Spectra, and the student literary journal, Eclipse.
Business Communication
The Business Communication specialization prepares students through the core communication classes to become strong professional writers and public speakers who are grounded in the communication theories and research methods necessary to succeed in the business world. The program's focus on public relations/marketing courses prepares students for careers in sales, public relations, hospitality, nonprofit work, and numerous other business-related occupations.
Digital Communication
The Digital Communication specialization teaches students the fundamentals of digital photography, video production, and graphic design. Students take art courses and combine them with their communication theory and methods courses to be prepared to enter the fast-growing field of multimedia production. The specialization is perfect for students interested in pursuing careers in film production, advertising, public relations (visual production), and numerous other careers.
Religious Communication
The Religious Communication specialization allows students to explore how religious belief and action motivate human behavior. The specialization is ideal for students interested in pursuing seminary or a master's degree in counseling after completing their undergraduate degree. The courses are taught by faculty in the Religious Studies and Philosophy departments.
Course Requirements for Major
Program Requirements: 21 Credit Hours
COM 111 Introduction To Communications 3 credit hours
COM 245 Communications Theory 3 credit hours
COM 340 Intercultural Communication 3 credit hours
COM 352 History Of The Mass Media 3 credit hours
COM 396 Research Methods 3 credit hours
COM 480 Communications Internship 1-12 credit hours
COM 495 Senior Tutorial 3 credit hours
Cognate Requirements: 21-23 Credit Hours
ENG 211 Rhetoric 3 credit hours
TSD 101 Fundamentals Of Speech Communication 3 credit hours
World Language 3-4 credit hours
World Language 3-4 credit hours
Cognate Electives: Choose 6 hours from the following
ENG 240 Introduction To Journalism 3 credit hours
ARH 435 Visual Culture 3 credit hours
or
ENG 435 Visual Culture 3 credit hours
HUM 110 Intro To Ethnic And Gender Studies 3 credit hours
COM 285 Special Topics 3 credit hours
or
COM 485 Special Topics 3 credit hours
Concentration (Choose One)
Professional Writing: 12 Credit Hours
ENG 150 Introduction To Creative Writing 3 credit hours
ENG 240 Introduction To Journalism 3 credit hours (Cannot double count)
ENG 272 Introduction To Editing A Literary Journal: Eclipse 2 credit hours
ENG 273 Introduction To Publishing A Literary Journal: Eclipse 1 credit hours
And one of the following:
ENG 242 Spectra 1 credit hour 3 sessions required; 1 credit hour per session
or
ENG 362 Advanced Editing A Literary Journal: Eclipse 2 credit hours
and
ENG 363 Advanced Publishing A Literary Journal: Eclipse 1 credit hours
Enterprise Communication: 13 Credit Hours
BAM 101 Introduction To Business 3 credit hours
BAM 201 Business Communications 3 credit hours
BAM 212 Business Publication Design 1 credit hours
MKT 310 Marketing Principles And Cases 3 credit hours
MKT 360 Social Media Marketing 3 credit hours
Religious Communication: 12 Credit Hours
PHI 201 Introduction To Philosophy 3 credit hours
or
RST 102 Introduction To Christian Theology 3 credit hours
RST 314 World Religions 3 credit hours
RST 318 Values In Video 3 credit hours
PHI 361 Philosophy Of Religion 3 credit hours
Digital Communication: 18 Credit Hours
ART 105 Foundations: Core Concepts 3 credit hours
ART 111 Foundations: Digital Concepts 3 credit hours
ARG 330 User Experience Design 3 credit hours
Choose three of the following: 9 Credit Hours
ART 116 Introduction to Digital Photography 3 credit hours
ART 243 Introduction to Video 3 credit hours
ART 346 Advanced Video 3 credit hours
ART 357 Intermediate Photography 3 credit hours
ART 457 Advanced Photography 3 credit hours
Total for Major: 51-57 Credit Hours
Liberal Arts: 35 Credit Hours
General Electives: 28-34 Credit Hours
Total for Degree: 120 Credit Hours
Other Requirements
Students must maintain a 2.0 g.p.a. or better in Program Requirements for their major.
Students must receive a 2.0 g.p.a. or better in their minor.
Career Opportunities
A BA degree in Communications from Siena Heights University prepares students for the following fields:
Journalism
Broadcasting
Public relations
Human resources
Law school
Graduate education in counseling or communication studies
Design editor
Translator (with a minor or second major in Spanish)
Publishing
Digital media layout
Copywriter
Campaign director/Program Coordinator
Social media manager
Health educator