Bachelor in
BACHELOR COMMUNICATION MANAGER
Sup'De Com : Ecole Superieure de Communication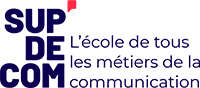 Scholarships
Explore scholarship opportunities to help fund your studies
Introduction
Our program aims to train future operational communication managers familiar with the working methods used in agencies or communication services.
From the second year, personalize your course by choosing one of the three courses:
PP # 1 CREA: Creation and digital design
PP # 2 DIGITAL: Digital communication and social media
PP # 3 EVENTS: Event project management
Rhythm:
First-year: Initial rhythm, an internship of 8 to 10 weeks
Second-year: Work-study or internship of 12 to 14 weeks (depending on the campus)
3rd year: Work-study or 4-month internship (depending on the campus)
The Communication Bachelor (Communication Manager) is accessible to anyone holding a Bachelor degree or an equivalent diploma.
The second and third years are accessible in parallel admissions after a Bac + 1 or a Bac + 2.
The Bachelor Communication is accessible by VAE.
The validation of professional certification is done by achieving the level of mastery of each skill block:
Analysis and design of a communication plan
Operational implementation of a communication plan
Design and production of communication media
Deployment of communication adapted to the user experience (Ux)
Animation and management of a communication service
At the end of the 3rd year, the Bachelor Communication training is validated by the certified level 6 (EU) "Communication Manager," issued by AIPF, registered in the National Directory of Professional Certifications.
In addition to the job of "Communication Manager", the training allows you to target one of the following jobs:
External communications manager
Internal communications manager
Event communication manager
Head of press relations
Press officer
Public relations manager
Communication Manager
Web communication manager
Social media manager or Community Manager
Media planning officer
Project manager (and its variations)
Junior advertising manager
Advertising project manager or manager
A manager or Deputy Director of Communication
Communication advisor or consultant