Bachelor in
Bachelor in Social Communication
Universidad Nacional de Chilecito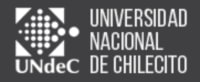 Scholarships
Explore scholarship opportunities to help fund your studies
Introduction
The Bachelor in Social Communication will allow you to be a professional with a supportive and humanistic profile prepared to analyze, plan and manage communication both in private companies and public bodies. It will provide you with tools to study and understand the reality of your region and your country, critically analyze it to be able to carry out a wide variety of tasks in graphic, radio, television, or digital media.
What are you going to learn during the race?
By studying communication you will learn to carry out research, production, and dissemination of content in different technological formats; graphics, radio, tv, and the internet.
You will also learn to intervene in your community space to understand the local, regional and national reality and contribute to its development. You will be able to design campaigns and develop institutional communication programs, intervene in Marketing, Advertising, and Public Opinion studies.
How is the race?
The degree is face-to-face and lasts 4 years. It has 43 subjects, which reflect how varied and dynamic the communication sector is. You can also obtain the intermediate title of Social Communicator, after 3 years, passing 34 subjects and doing integrative work.
The combination of theory and practice will allow you to have complete training and a wide knowledge of new ways of communicating since the fields of professional development of future graduates are permanently modified and expanded.