BA in
BA in Social Communication and Public Relations
University of Economics and Human Sciences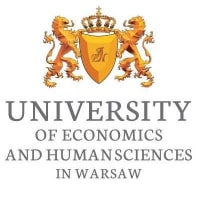 Introduction
Completion of this specialization prepares you to work in the field of building PR communication strategies and image shaping, as well as establishing positive relations with the social and business environment during cooperation in campaign management and cooperation with the media.
It enables the acquisition of skills in solving crisis situations, the art of discussing and negotiating, as well as in the area of presentation and self-presentation.
Ideal Students
The program is for you if:
You can make contacts easily,
You are interested in media and communication,
You are considering working in the field of business communication and negotiation.
Scholarships and Funding
While studying at UEHS, you can take advantage of a wide range of financial support from the state budget and European funds, as well as benefit from special discounts with the UEHS discount program.
Scholarship
The scholarship may be awarded to any student who obtained an average grade not lower than 4.5 in an academic year given.
In the academic year 2020/2021, the University of Economics and Humanities in Warsaw awarded 292 Rector's Scholarships, ranging from PLN 450 /month to PLN 650 /month, depending on the average or achievements. For outstanding sports, artistic or scientific achievements, the Scholarship Committee awarded scholarships of PLN 450 /month.
Sports scholarships
A sports scholarship may be awarded to a student who excels in sports achievements at least national level. In addition, we also encourage our students to take part in additional support programs- e.g., the National Academic Representation.
Young sportsmen can count on financial support in the amount of PLN 450 /month.
Special scholarships for disabled people
A scholarship for people with disabilities may be awarded to a student who has a disability certificate, a disability degree certificate, a ZUS certifying physician's certificate, a disability group certificate, or a certificate of permanent or long-term incapacity to work on a farm.
In the 2020/2021 academic year, depending on the degree of disability, 79 scholarships for people with disabilities were awarded, ranging from PLN 800 /month to PLN 1000 /month.
Allowances
An allowance is a form of emergency financial assistance. Any student who finds himself temporarily in a difficult life situation resulting from random events beyond the student's control can apply for it.
The allowance may be granted twice in one academic year, and the allowance is not granted twice for the same random event. Difficult life situations caused by the COVID-19 pandemic are an exception.
In 2020, we granted 64 allowances for a total of PLN 113,200.50. The allowances, depending on the student's situation, were paid in the amount of PLN 1,000 to PLN 2,500 at a time.
Curriculum
The study program covers issues related to the understanding and practical use of knowledge in political science in various spheres of social activity.
First Year of Study
The first year of studies is dominated by subjects that, regardless of the chosen field of study, provide broad horizons of thinking and understanding of concepts and basic issues in a given field of study. As a result, you will gain knowledge and skills that will help you find yourself in many different professions in the future, and prepare you to undertake interdisciplinary projects, which is particularly important and valued in the labor market today. From the second semester, the classes introduce more and more detailed content specific to the selected field of study.
First Semester

Study Of State, Law, and Politics
Introduction To Psychology
Academic Skills
Foundations Of Philosophy
Organization And Management Theory
Foundations Of Social Communication
Fundamentals Of Economics
Occupational Health And Safety Training

Second Semester

Foreign Language
Sports And Leisure Activities
Research In Methodology In Social Sciences
Introduction To Law
Constitutional Law And Political Systems 
Media Relations
Public Administration
Fundamentals Of Sociology
Project Management
Second Year of Study
During the second year of studies, subjects focused on the chosen field of study are introduced to the curriculum. They allow you to deepen your knowledge and acquire the competencies necessary to understand and use knowledge in the field of political science in various spheres of social activity.
Third Semester

Foreign Language 
Sports And Leisure Activities
Contemporary Political Thought 
Political Marketing
Political Communication
Diplomacy
Contemporary Social Movements
Information Society
Student Apprenticeships

Fourth Semester

Foreign Language 
Contemporary Political Systems 
International Security
European Integration
International Political Relations
International Security Organizations
Political Brand In The Public Space
Student Apprenticeships
Third Year of Study
In the third year of studies, you can choose a subject in the field of social communication and public relations to gain specialist preparation for PR. In each semester, you can choose 4 out of 6 specialty subjects.
Fifth Semester

Foreign Language
Methodology Of Social Or Economic Projects
School Of Business Practitioners
Student Apprenticeships
Marketing Management
Principles Of Negotiation And Mediation
Social Psychology
Responding To Criticism
Contemporary Media
Legal Aspects Of Public Relations

Sixth Semester

School Of Business Practitioners
Social Or Economic Project And Diploma Exam
Student Apprenticeships
Public Relations
Forming Public Opinion
Information Engineering
Intercultural Communication
Internet Exploration Techniques
Media Language Style And Culture
Rankings
The University in rankings
Ever since it was established, the University of Economics and Human Sciences in Warsaw has taken great care when choosing teachers and professors to work with, opting for the most accomplished instructors and scholars hailing from Poland and other countries.
Thanks to this, our University has been able to constantly improve its ranking among other colleges. We are also highly praised by our students and candidates, who are attracted to the University by the opportunity to study under a very accomplished teaching staff.
Here are some of our achievements:
1st Place - The Best-Educated Academic Staff in Poland
In the Perspektywy Ranking 2018
1st Place in Poland According to the Criteria of Internationalization
In the Perspektywy Ranking 2022
2nd Place - Program of Study: Finance and Accounting
In the Ranking of Private Universities
3rd Place Among Private Universities
In the International Ranking Webometrics
4th Place - Program of Study: Law
In the Ranking of Private Universities
6th Place Among Private Universities
In the Perspektywy Ranking 2022
Program Outcome
After obtaining this specialty, you will have access to the worlds of media and advertising. You can work in public relations agencies, advertising agencies, central offices, social communication and public relations departments of companies in various industries, public administration, banks, social organizations, political parties, and as a press officer, specialist in media relations, or promotion.
Career Opportunities
The specialization allows you to work in areas dealing with broadly understood PR and communication in companies (PR agencies) and in the media market as a PR person.