Bachelor in
Dual Bachelor Degrees Programme of Events Management
University of Shanghai for Science and Technology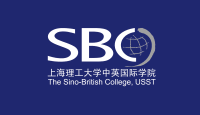 Introduction
Since September 2020, SBC and USST offer students a fantastic and unique opportunity to earn both a British bachelor degree and a Chinese bachelor degree. If international students have a strong desire to learn Chinese, they can be dual enrolled. After four years of study at SBC, students can earn both a British bachelor degree certificate from the University of Huddersfield and a Chinese bachelor degree certificate from the University of Shanghai for Science and Technology (USST).
Program Outcome
Programme Aims
This major cultivates applied and compound talents who can adapt to the needs of the development of international exhibition industry, have a solid knowledge base of exhibition economy, broad international vision, innovative spirit and practical ability, and be engaged in planning, design and management in the exhibition industry. The course facilitates students:
Master the knowledge of Humanities and science;
Master the basic knowledge of economics and business;
Master the basic knowledge of exhibition management;
Master the professional theoretical knowledge of exhibition;
Have certain Exhibition professional skills and practical ability;
Have a broad international vision and strong cross-cultural communication ability;
Have the ability of project organization and management;
Have the consciousness of innovation and lifelong learning and the ability to adapt to development.
Characteristics
The Events Management degree offered by the University of Shanghai for Science and Technology (USST) and the University of Huddersfield at SBC are ideal for students wishing to advance their knowledge, skills and career prospects in events management and achieve further career or academic development in a bilingual environment.
This course is designed to produce graduates equipped with the skills, knowledge and competence to manage events, who can engage with specialists in planning and executing a range of routine and complex events. This may include venue selection, public safety and crowd control, the provision of staffing, marketing, design and staging, music promotion and sponsorship. Besides, the school employs a wide variety of assessment methods involving individual presentations, group presentations, assignments, group reports, feasibility studies and examinations.
Career Opportunities
Career Service & Development Centre(CSD) of SBC is committed to enhancing independent learning, career employability, social adaptability and cultural awareness by developing a systematic competency model within a global context, and ultimately facilitating career success for students and alumni. Thus far SBC has established long-term strategic partnerships with 200 leading employers and professional consultancy institutions, centring on a dynamic curriculum that will enable the development of graduate employability skills fostered through a range of work-related opportunities including student placements, student internships, student part-time and volunteer activities, company visits, a vocational instructors committee, corporate scholarships, small job fairs, mock interviews, and corporate social responsibility projects.
Business Programme (Business Management and Events Management) corporate partners include Louis Vuitton, H&M, ZARA, NIKE, HSBC, Standard Chartered Bank, KPMG, DTZ, Nürnberg Messe, Reed Exhibitions, Riviera Events, Saatchi & Saatchi, MSL China, MMI, Edelman, Touch Media, VNU Exhibitions and other leading companies.
Engineering Programme (Mechanical Engineering and Electrical and Electronic Engineering) corporate partners include Siemens, Ingersoll Rand, Philips, Continental Automotive System, LENZE, SKF, Machaire, Lectra, ICD Security Systems, IMI, EMERSON, Valeo, Bosch, Haworth Furniture, FESTO, Autoliv and other leading companies.
As a consequence of the distinctive nature of the programme, students will be enabled to apply their knowledge, deepen their workplace insights, make value judgments, communicate, and provide evidence of their achievements related to the development of employability skills.