Bachelor in
Bachelor of Communication Studies
The University of Waikato

Scholarships
Explore scholarship opportunities to help fund your studies
Introduction
Bachelor of Communication Studies
This qualification will not be available for new enrolments for new students after 2017. See the equivalent 2018 Bachelor of Communication Studies.
Gain the up-to-date industry skills you need to become a Public Relations, Marketing or Leadership Communication specialist, and help to drive business success. You'll study at the only communications school in Australasia certified by the Public Relations Society of America (PRSA).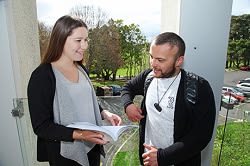 The Bachelor of Communication Studies (BCS) degree blends the business and creative disciplines with an in-depth understanding of communication theory and practice.
Grasp this opportunity to make a difference with your voice and writing, and work in business, government or the not-for-profit sectors in New Zealand or overseas.
You will gain the up-to-date skills required to become a strategy-based communication, marketing or public relations specialist.
Develop the advanced communication skills to influence people's attitudes and behaviour, forge valuable relationships, and drive strategic change within organisations.
We also teach you about sustainable business practices and being socially responsible, to help you make a positive difference to society.
Waikato has an international reputation
We're ranked in the world's top 150 universities for the teaching of Communications and Media Studies by the prestigious QS Subject Rankings. And our public relations course is certified by the Public Relations Society of America (PRSA).
Waikato is one of only 37 universities worldwide - and one of only five outside the United States - that has achieved PRSA certification - regarded as the industry gold standard in public relations education.
You'll be studying at Waikato Management School, a Triple Crown international business school accredited by EQUIS, AMBA and AACSB since 2005. This is a global benchmark of excellence in teaching and research, achieved by less than 1% of the world's business schools.
Major subjects
For this degree, you will major in one or two of the subjects below - you don't need to decide until second year.
Leadership Communication
Marketing
Public Relations
If you decide to take a second major, this could be a management subject that complements your degree, such as Strategic Management or Electronic Business, or any other undergraduate subject offered at the University of Waikato.
Alternatively, you could choose to take a 'Specialisation' (60 points) in either Events Management, Health Communication, a language (Chinese, French, Japanese, Spanish, Te Reo Māori) or Management Education Abroad.
Career opportunities
Advertising executive
Marketing specialist
Brand/product category manager
Communications manager
Media relations adviser
Press secretary
Public relations officer
Digital marketing specialist
Events manager
Publications editor
Management trainer
Social media manager
Writer/editor
Publicist
Professional fundraiser
Exchange programme and study abroad
Want to travel while studying?
Take an overseas study exchange for 1-2 semesters, and credit the points back to your Waikato degree!
Prepare yourself for a global career and broaden your horizons by going on a student exchange to one of our partner universities in Europe, Asia, USA, Canada or Mexico. Contact the University of Waikato Student Exchange team to find out more.
BCS students can apply for the Waikato Management School International Exchange Scholarships, offered twice a year and worth up to $2,500 each (depending on the study destination).
From second year, you may also be eligible to apply for the Discover SWUFE International Summer Camp Scholarships. These provide funding for two or more Waikato management students to visit Chengdu, China for two weeks of lectures, business trips and cultural activities.
Cultural experience
Waikato Management School has a vibrant student culture that offers plenty of social and learning opportunities.
You can meet like-minded people through student clubs, such as:
Waikato Management School Students' Association (WMSSA)
Management Communication Students Association (MCSA)
Innovation Station Waikato
Social Innovation Waikato
Te Ranga Ngaku - the Māori management student network
Pacific Islands Management Students Association (PIMSA)
As a Bachelor of Communication Studies student, you are also eligible to become a student member of the Public Relations Institute of New Zealand (PRINZ), for a discounted fee.
We offer a student mentor programme for first-year management students to help you make the academic transition from high school to university.
For expert advice on writing essays and reports, contact our team of specialist teachers in the WMS Language and Learning Development Unit, located in the Management Student Centre (MSB1.50).
Practical experience
Hands-on learning and industry experience
Our students learn by applying theories and concepts to real-world busines cases, engaging class discussions, group work, and a variety of practical experiences.
In first year you'll compete against other teams to come up with the best idea for an innovative new product. You'll conduct market research and plan a full marketing strategy around design, promotion, price and distribution. You'll then showcase your product for judging in a 'trade show' environment.
You'll learn how to write media releases, work with journalists, create corporate brochures and broadcast news, deliver speeches, and use digital technologies to create websites and advertisements.
Public Relations students will create and deliver a PR campaign on behalf of a real client in their third year.
You'll have the opportunity to do a workplace internship or gain industry experience with a relevant business or organisation in New Zealand, or conduct applied research.
Students who achieve a B+ grade average can apply for the prestigious MCOM387 Communication Internship.
Gain the skills to succeed at university
For help with writing essays and reports, APA referencing and giving oral presentations, you can access a team of specialist teachers in the WMS Language and Learning Development Unit, located in the Management Student Centre (MSB1.50).
We also have a student mentoring programme to provide extra help to first-year management students. This aims to ease the academic and social transition from high school to university, by connecting you with other students who've been in your shoes before. Mentors can provide guidance on everything from study strategies and papers to social activities.
Admission and enrolment
You're eligible to apply for the Bachelor of Communication Studies if you have University Entrance, or its equivalent. All other applications will be considered on a case-by-case basis.
For more details, see the admissions criteria and University Admissions Statute.
International students are required to have 13 years of school study and meet the English language requirements.
If you don't have a strong background in literacy, you may be directed to take MCOM104 Written Communication for Management to help prepare you before attempting MCOM133 Introduction to Corporate Communication.
Some first-year papers may have specific entry requirements, so please check the catalogue of papers carefully.
If you don't meet the prerequisites listed here, please contact [email protected] as there may be other pathways you can take to study in this field. The catalogue of papers can be found at papers.waikato.ac.nz.