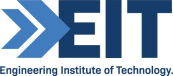 Engineering Institute Of Technology
Home ›
Engineering Institute Of Technology
About

The key objective of the Engineering Institute of Technology (EIT) is to provide an outstanding practical engineering and technology education; from Diplomas through to Masters Degrees. The finest engineering lecturers and instructors, with extensive real engineering experience in the industry, are drawn from around the world. The learning is gained through face-to-face classes as well as synchronous, online (eLearning) technologies with access to remote laboratiries and simulation software.
EIT offers awards in a growing array of engineering fields. The programs are taught making use of the unique approach of LIVE interactive sessions over the Internet, combined with practical exercises completed using remote laboratories and simulation software. The range of programs include:
Professional Certificate of Competency - 3 months (part-time, intensive)
Diploma of Leadership and Management - 12 months (part-time, intensive)
Advanced Diploma - 18 to 24 months (part-time, intensive)
Bachelor of Science - 3 years (full time)
Graduate Certificate - 6 months (part-time, intensive)
Graduate Diploma - 12 months (part-time, intensive)
Master of Engineering - 24 months (part-time intensive)
Many (perhaps, most) engineering faculties at universities and colleges experience a significant challenge delivering the course-work affordably and with excellence. EIT achieves this using both face-to-face and online-based education where economical class sizes are attainable, international experts are engaged to instruct, and remote laboratories and simulation software are employed.
EIT is a sister company of the well known and reputable engineering training organization, IDC Technologies. IDC has been operating for over 25 years, from offices throughout the world, delivering practical short courses to well over 500,000 engineers and technicians. IDC's range of training formats includes:
Why Choose EIT

Internationally endorsed engineering qualifications (from advanced diploma and beyond)
Designed for students already working in industry who need an efficient educational alternative
Practical, relevant, industry-driven courses
Presented by some of the finest engineering lecturers selected from around the world
EIT's "expert at your desk" instructors will have extensive industry experience
Face-to-face and "live" live online classes available using the latest web-based technologies
Classes are interactive, interesting and motivational
Access to enormous depth of reference and research materials
Create your own technical support network via the EIT Alumni group
Cost effective with a choice of payment plans
Personalized delivery in small group sizes
Locations
Perth
Engineering Institute Of Technology
Melbourne
Address
Level 1/600 Collins Sreet, Melbourne Victoria, 3000, Australia.
3000
Melbourne
,
Victoria
,
Australia
Bentley
Address
Marquis Street
6102
Bentley
,
Western Australia
,
Australia