Read more on the school's website
Why AUM?
The way we deliver our degree programs makes up a crucial building block in the foundation of our identity at AUM. Each one of our programs guides you to build your way from the ground up and structuring knowledge in a coherent and cogent way. We take you all the way from basic principles to hands-on practice with the latest industry technologies relevant to your field.
Why Study in Malta?
Located in the center of the Mediterranean, between Europe and North Africa, Malta is the European Union's smallest member state. Famous for its 7,000-year history and 300 days of sunshine, Malta has emerged as one of the most remarkable success stories in the Eurozone. Recognized for its pro-business attitude, state-of-the-art infrastructure and modest costs of doing business, it has become the go-to country for growth-minded entrepreneurs and multinational companies.
High quality of life in a Mediterranean island environment with English as one of Malta's official languages.
Malta relies on foreign trade and given its location this is mainly with the EU, Asia and the US. Its economy is dominated by tourism, manufacturing, technology, and finance. Strong technology infrastructure has attracted firms such as Lufthansa Technik and Dubai's Tecom; while in terms of indirect investment, the island has become a firm favorite for hedge funds and is ideally positioned geographically and culturally as a financial center in the EU and Eurozone.
As an EU jurisdiction with favorable tax rates, excellent infrastructure, and a balmy Mediterranean climate, the combination looks set for Malta to establish itself as the place of choice for businesses.
Our Vision
The American University of Malta educates a diverse student body to become ethically responsible global citizens, critical thinkers, and future leaders in an academically challenging learning environment. AUM strives constantly to innovate and enhance quality in teaching, research, public service, and economic development.
Our Mission
The American University of Malta is a private, American-style liberal arts university dedicated to higher education and research for an international community at the highest standard. Our degree programs, research activities, and service to the community transform lives and serve society by educating ethically knowledgeable citizens, creating knowledge, and putting knowledge to work in a global setting.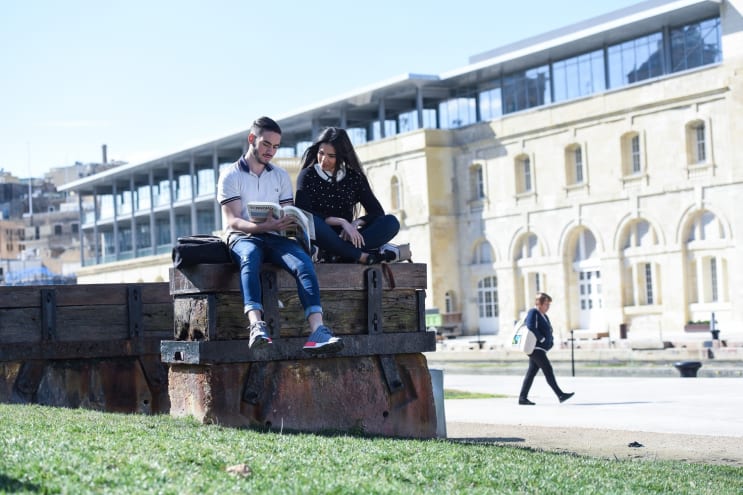 Our Values
Integrity
Ethics
Quality Education
Academic Freedom
Diversity and Equality
Community Engagement
Accreditation
The American University of Malta (AUM) merges the best of both worlds in terms of academic standards and accreditation. All programs are designed by a professional faculty board so as to comply with American Education standards at the tertiary level. Every degree has received accreditation, following scrutiny by the National Commission for Further and Higher Education (NCFHE) of Malta. In turn, this means that all degrees offered at AUM are also fully recognized throughout Europe and beyond.
Our Programs
Undergraduate Programs
AUM offers 10 undergraduate degrees in the areas of Business, Engineering and Technology, and Arts.
Whether you want to establish an innovative and financially successful startup, design the next generation of video games, or plan the layout of a futuristic city, you've come to the right place.
Graduate Programs
Our 2 graduate programs are in the Business and Engineering fields.
The curriculum tackles a host of contemporary and pressing issues, with theory and practice meriting equal attention. Overseen by experienced faculty from leading universities around the world, the program meets the highest international standards.
EAP
The English for Academic Purposes intensive program facilitates the smooth transition from conditional to full admission of students who have not met the minimum acceptable score on standardized English tests.
Upon completion, students can proceed to take the required courses in their degree program.
Scholarships
Maltese and EU Scholarship
AUM is offering full scholarships to undergraduate applicants who are Maltese or EU citizens residing in Malta for the last 5 years. Applicants must complete their admissions application to be considered.
President Scholarship
AUM is offering 5 merit-based scholarships for each major to undergraduate and graduate applicants who have outstanding academic achievement. Applicants must complete their admissions application to be considered.
Student Life at AUM
Don't just go to uni— get the most out of it.
At AUM, we encourage our students to participate in a long list of university-sponsored activities. From beach outings to island-wide cultural expeditions, we are dedicated to ensuring our students have plenty of opportunities for fun. Our goal to not only have positive classroom experience but also have plenty of opportunities to develop long-lasting friendships.
Our Campus
AUM is located in Bormla, also known as Cospicua, one of Malta's iconic Three Cities. The area is rich in culture, varied history and restaurants and cafés by the beautiful waterfront. Our campus, originally designed by William Scamp, was used during World War II as a British naval base. Heavily bombed during this period, the building was left in ruins for many years. The restoration process included efforts to keep the historic preservation of artifacts within the building.